By intentional design or fortunate error your Web cruising brings you to FotoGrande.com and the work of New Mexico journalist William Diven.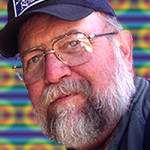 The content reflects Diven's checkered career in newspapers, magazines, radio and television as it rambles across the landscape touching whatever on a given day piques curiosity, skepticism, incredulity or can-you-believe-what-these-yokels-are-doing disbelief. He is a longtime member of the Society of Professional Journalists and the National Press Photographers Association.
Any recurrent themes likely involve politics or the media or the collision of the two with, one hopes, a minimum of spittle-laced bloviation. History is another interest as are railroads, the great-granddaddy of modern American corporations, whose influence for better and worse began altering the national culture in the days when there were only 24 states and Thomas Jefferson was still alive.
This site is a work in progress launching with just a blog and ambitions. So do stay tuned and bookmark us, add the Ramblings to your news feeds or just check back occasionally.
Thank you for your time and tolerance.