The show must go on, even if a mountain rockslide stops your train carrying a Grammy and CMA winner and the entire audience.
That's what happened on Saturday morning nearing 9,000 feet elevation in the Colorado Rockies where the Rio Grande Scenic Railroad curves into a crumbly cut through layered rock and dirt far from the highway and any quick help.
There the night before boulders peeled off the cliff face led by a hard-rock tumbler that skidded almost to the rails. The next day it laughed at a crewman assaulting it with a sledgehammer.
"It was a big honking rock," said railroad President Ed Ellis, who shielded his eyes as sparks flew from the hammer hits. "We all beat on it. It was a solid piece of rock, maybe 3 to 4 tons."
A freight train on Ellis' San Luis & Rio Grande Railroad got by during the night stepping ever-so gently under a "walking order" as a crewman with a flashlight and radio made sure engines and cars cleared. But freight trains don't haul 85-foot passenger cars that try to shortcut curves as tanks and boxes of mechanical gear dangle from their bellies.
"It wasn't until we got up there Saturday morning and the conductor got off to walk us by that we realized the generator on the third car wasn't going to clear," Ellis said.
Fetching the track hoe working the Walsenburg side of 9,242-foot Veta Pass would take much of the day. That left as one option slowly backing the six-car train and its two locomotives down the mountain toward Alamosa and perhaps writing off the concert by Juice Newton and the group Harpeth Rising. Instead, after a delay of about an hour, Ellis moved everyone — passengers and musicians — from the rear four cars into the front two. It was standing room only for the last four miles of the 44-mile trip to Fir.
So the show went on at Fir in a forest-ringed meadow just below Veta Pass. Nashville-based Harpeth Rising — Jordana Greenberg, Rebecca Reed-Lunn and Maria Di Meglio — opened with a set of what they call folk and Americana tunes that I'll call Celtic-bluegrass-classical crossover given its tempos, instruments and harmonies. You can decide for yourself what happens when you mix swinging banjo, violin and cello with three sweet voices.
The Juice Newton Acoustic Trio headlined the afternoon from the stage set in a three-sided shelter. Newton doesn't get the airplay she did in Urban Cowboy days when she rocked country, pop and adult-contemporary charts picking up Grammy nominations, a Grammy and Country Music Association and Billboard honors. She still spins good tales and despite apologizing for the effects of the altitude and dry air belts out a tune like few others. (I shouldn't say "still." She's younger than me, and I still rock.)
Backed by Danny Dugan and Jay Cawley, she pulled out her hits like "Angel of the Morning," "Queen of Hearts," an a cappella version of "Love's Been a Little Bit Hard on Me," "Riding 'Em Cowboy" and even snuck in Lyle Lovett's "Cowboy Man." Add the Grammy-nominated "The Sweetest Thing I Ever Knew" and the Grammy-winning "Break it to Me Gently," and you've got a splendid afternoon in a beautiful setting with a tolerable chow-line lunch enhanced by a bottle of San Luis Brewing Company's Scenic Rail Pale Ale.
"It was a fun and interesting ride/show," Newton emailed in response to my query. "The rock thing was no more than an air delay or bad traffic. I think much safer."
Meanwhile, back on the railroad… The SL&RG engines returned to the rockslide where the determined train and track crew set out to move the boulder.
"I picked it up and pushed it out of the way," Ellis said before conceding that's not quite what happened.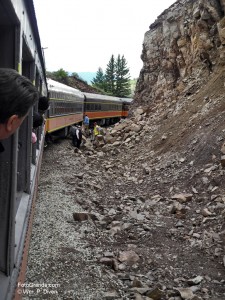 Instead a bit of old-fashion railroading surfaced from the days when engines carried long poles to move cars short distances on adjacent tracks. Back then cars and locomotives had dimples called polling pockets in each lower corner to accommodate the pole held by a crewman who then got out of the way since the poles occasionally splintered. Rather than a pole, however, the SL&RG crew used a heavy railroad tie 7-8 feet long.
"They had a good plan. They wedged the tie against the snowplow of the second engine and moved the rock just like there was no tomorrow," Ellis said. "Our track guy has been here 20 years. It was done safely and quickly."
The cliff and others on the line over Veta Pass still pose risks as they have since the Denver & Rio Grande standard-gauge line opened in 1899 replacing the narrow-gauge route built in 1877-78.
"We dynamite at least one cliff about every other year," Ellis continued. "That particular one is scheduled for October."
Two remnants of the narrow-gauge line from Denver through Alamosa and into New Mexico and southwestern Colorado still survive as steam-powered tourist haulers. The Cumbres & Toltec snakedances the state line and crests 10,020-foot Cumbres Pass while the Durango & Silverton connects its namesake towns along the Rio de las Animas Perdidas, the River of Lost Souls.
Ellis and his partners, who scraped together $18,000 to launch Iowa Pacific Holdings in 2001, border on being rock stars in the railroad community for buying up small, unprofitable shortlines or big-railroad castoffs, turning them around and reviving passenger trains on many of them. Today the company owns nine U.S. railroads, three British operations and is a shareholder in Andean Rail carrying passengers on the Machu Picchu Train in Peru.
The SL&RG came into the fold when the Union Pacific decided to withdraw from the hard-scrabble San Luis Valley. Today the line hauls about 5,000 carloads a year of agricultural products, among them about a third of the Moravian barley Coors uses to brew its beer, as well as pearlite and volcanic scoria mined near the south end of the line at Antonito and even a little coal. Under its Rio Grande Scenic banner the line also carries about 15,000 passengers at 30 mph or less seasonally boosting employment from a base of 15-20 to as many as 40.
"It wasn't until we bought this railroad in 2005 that we started thinking seriously about passengers," said Ellis, a career railroader and former Amtrak vice president. "It's really a spectacular railroad, and it obviously needed additional business.
"That's why we started the passenger train. It doesn't really cost much more to run on the same tracks, so the incremental income helps maintain them."
Selling their 265-mile Arizona Eastern Railway in the copper country around Globe and Morenci for $90 million helped underwrite what is now a collection of more than 200 classic passengers cars in various states of elegance and disrepair. The round-end observation car in Illinois Central colors on the concert train, for example, graced the tail of the IC's City of New Orleans in pre-Amtrak times. The Scenic's collection includes venerable passenger diesels, one dating to 1946 on the Gulf, Mobile & Ohio, and steam engines that ran until recently but are now out of service pending rehab.
Another of the City of New Orleans observation cars runs with Iowa Pacific's Pullman Rail Journeys, a high-end service regularly coupled to the back of Amtrak's City of New Orleans and making special runs to New York City and the Greenbrier resort in West Virginia. The company also is about to launch passenger services in Oklahoma between near-downtown suburbs of Tulsa and Oklahoma City.
The concerts began with a single event in 2007 about 250 shows ago. In addition to Newton this season, headliners included the Nitty Gritty Dirt Band, Michael Martin Murphey and Susie Boggus. Murphey has two more shows coming up, and Boggus returns on Labor Day weekend. In the outdoor venue the audience sits on split logs, hay bales and their own or rented camp chairs. Musicians ride the 40-seat observation car and sometimes jam for the 22 passengers who pay about $150 for the exclusive ride. "It's what sells out first," Ellis said.
Filling out the concert train are a full-length dome car built in 1954 for the Santa Fe Railway, regular coaches, a club car and an open-air car positioned behind the engines on the way up the hill making it the end of the train on the way down.
Passenger service continues after the concert season with excursions into fall colors, a stargazing trip into the dark mountain skies, Christmas trains and an annual Rails & Ales Brewfest. That draws about 20 Colorado and New Mexico craft brewers to Fir where 1,000 rail riders take advantage of the music, food and beverages. The 2015 Brewfest is scheduled for June 20, and Ellis cautions flatlanders not to think they can consumer beer at 9,200 feet the way they do back home.
Ellis said Iowa Pacific is always looking to expand but is backing off a deal announced earlier this year to bring in as a major shareholder an investment group headed by billionaire Sam Zell. That announcement in April prompted speculation Iowa Pacific was in trouble or that Ellis might lose control of his vision.
"I enjoyed working with the Zell people," he said. "It was not a problem with control; it was more about valuations."
His bankers, he noted, are confident enough in Iowa Pacific to refinance its debt and "add more money to the pie."
"I'd like another investor because we have a whole bunch of opportunities we'd like to pursue," Ellis said. "We're now at $200 million-plus in assets, and with my list of opportunities I could spend another $200 million."